Thomas Regional is a proprietary database powering Thomasnet.com. The Thomas Regional Directory Company began as a division of Thomas Publishing in 1976. Long time providers of supplier information on American manufacturers, Thomas, for some time, had been considering the idea of publishing local industrial companies to further deliver on their core mission: providing purchasing information to buyers and specifiers.
In 1976 Philip O'Keefe, who eventually became president of Thomas Regional Directory Company, and a group of Thomas staffers selected northern New Jersey, a heavily industrialized area for their first venture. In March 1977, Thomas Regional published its first guide: North Jersey Regional Industrial Purchasing Guide. It offered comprehensive information on local OEMs, distributors, MRO services and other custom manufacturing services.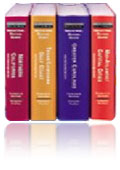 With the success of the North Jersey volume, Thomas Regional Directory Company was officially incorporated as a subsidiary of Thomas Publishing Company in 1977. By the early 1980s, Thomas Regional had published several other regional industrial purchasing guides. In 1986 Philip O'Keefe resigned as president of Thomas Regional and was replaced by Eileen Markowitz, previously a vice-president with Ziff-Davis Publishing Co.
Over time, Thomas Regional would change the publication's name to Regional Industrial Buying Guides and come to distribute 19 regional editions covering much of the United States.
The Thomas Regional Guide regions covered included:
Eastern New England - All of Maine, New Hampshire, Rhode Island, and Eastern Massachusetts
Western New England - All of Connecticut, Vermont, and Western Massachusetts
Greater New York & New Jersey - New York City, Long Island, Lower New York State, and Northern New Jersey
Upstate New York - Western and Central New York State
Greater Delaware Valley - Eastern Pennsylvania, Southern New Jersey, and Northern Delaware
Greater Allegheny - Western Pennsylvania, Eastern Ohio and West Virginia
Mid-Atlantic/Capital Cities - All of Virginia, Maryland, Delaware, Washington D.C.
Greater Carolinas - All of North and South Carolina
Greater Florida - All of Florida, Puerto Rico, and the U.S. Virgin Islands
Southeast - All of Alabama, Georgia, Tennessee
Ohio Valley - Southern Ohio, Kentucky, and Indiana
Northern Ohio - All of Northern Ohio (including Cleveland, Akron and Toledo)
Greater Michigan - All of Michigan and Northern Ohio
North Central Tri-State - Eastern Wisconsin, Northern Illinois, and Northern Indiana
North Texas-Oklahoma - Northern Texas, Oklahoma, Western Arkansas and Louisiana, and the southern fringe of Kansas and Missouri
Texas/Louisiana Gulf Coast - Southern Texas and Southern Louisiana
Pacific Northwest - Oregon, Washington, western Idaho, southern Alaska and Greater Vancouver B.C.
Northern California - All of Northern California (including San Francisco, Sacramento, San Jose and Fresno) and Western Nevada
Southern California - All of Southern California (including Santa Barbara, Los Angeles, San Bernardino, and San Diego) and parts of Nevada and Arizona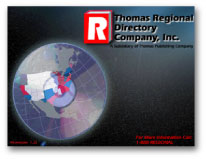 In the early 1990s, more and more directories were being published on CD-ROM as librarians and small business owners were discovering the benefits of this new electronic format. After forming a task force, headed by George Short, to study CD-ROMs, Thomas Regional published its first Thomas Regional Electronic Network Directory (TREND) in November 1996. Within two years, Thomas Regional released a total of 19 CD-ROMs, one to complement each hard covered guide.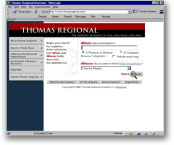 Shortly thereafter, the TREND team oversaw the development of Thomas Regional's web site. www.ThomasRegional.com quickly became the web's largest and most comprehensive database of regional industrial suppliers, providing information on more than 480,000 industrial companies. To integrate the products, the new CD-ROMs provided seamless web connectivity to Thomas Regional on the Internet, so that the buyers and specifiers could have access to the entire web database and source outside of their local coverage area.
Thomas Regional's guides, CD's and website were managed by a small group of 75 internal employees — who adhered to an aggressive publishing schedule--one print guide and one CD-ROM every three weeks — and daily updates to ThomasRegional.com.
In September of 1999, Thomas Regional added a newsletter to their portfolio of informational products. Industrial Market Trends delivered a roundup of industrial news, workplace tips and industry events to purchasers, engineers and other knowledge seeking professionals.
In March, 2000 Thomas Regional introduced Order Online. Order Online enabled industrial buyers to initiate and complete transactions quickly and easily online. For suppliers, Order Online provided a platform to efficiently sell their products and provided a complete suite of tools to: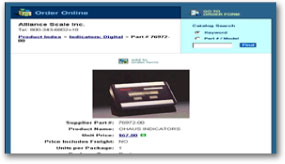 Add/delete, review, approve, and maintain product information
Change price and manage eCommerce terms and conditions
Handle credit card processing and payment methods;
Calculate shipping & sales tax;
Offer discounts and minimum order validation;
Process orders and RFQ's
Create sales and accounting reports
In 2000, Thomas Regional.com was named as one of Forbes Magazine's "Best of the Web B2B Sites" and was also selected as one of Information Week's "Web Sites of the Week."

In 2001 Thomas Regional partnered with Manufacturing Quote.com. The launch of Custom Quotes gave buyers the ability to source custom manufactured products and services right from their desktop. With the added capability to attach detailed drawings and specifications, suppliers could readily provide quotes. Buyers could then easily compare companies' pricing and capabilities and select the supplier that best met their needs. This service was free to all ThomasRegional.com users.
Leveraging their core expertise in the industrial marketplace, in 2002, Thomas Regional offered a host of additional services including: website design, development and hosting for the core market they served, SMBs
As the leading online source for regional industrial information, Thomas Regional was sought after and subsequently entered into valuable and long-term partnerships with well-known companies like Freight Quotes and AOL/Compuserve and a variety of associations and private label organizations — extending their reach to more than 1,500,000 industrial buyers.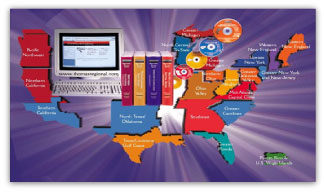 In 2004, The Thomas Register Regional Buying Guides and CD-ROM's were discontinued. The comprehensive supplier information found in these publications continues to be available free-of-charge at Thomasnet.com. The Industry Market Trends newsletter is still in publication and now known as Industry Market Trends (IMT) and exists in blog format at news.Thomasnet.com/IMT.